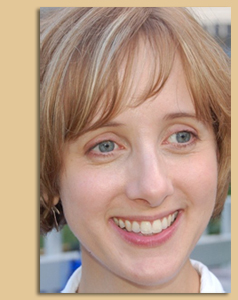 Officially
Emily Smith Pearce grew up in South Carolina. She holds a bachelor's degree from the University of North Carolina at Chapel Hill and an M.F.A. in Writing for Children and Young Adults from Vermont College. She lives in Germany with her husband and their two children.
Unofficially
I've wanted to write for children ever since I was a child myself. I grew up spending many of my afternoons in my elementary school library because my mother was my librarian. Books were always a friendly retreat. I remember reading lots that took place in New York City, where people lived in something called "brownstones" and went to schools named by numbers like "P.S. 131." While I enjoyed these books, there seemed to me a scarcity of books about other places, and I vowed that someday I would write about far flung locations I wondered about, like maybe South Dakota or Oregon. That was before I learned I was supposed to "write what you know," and before I learned that my home state was itself a very unique place.
As a young person I journaled and sketched and wrote stories off and on. I had wonderful high school English teachers and read lots of great books, but there wasn't much room in the curriculum for creative writing. While the dream of being a children's writer was always somewhere in the back of my mind, when I went to college, I planned to study math, or maybe biology and studio art. Those plans took a U-turn when I entered what I thought would be my last English class. It happened to be a poetry-writing class, which I thought would be an easy way to fulfill a credit. Was I ever wrong! It was incredibly challenging, but in the most exciting ways. By the end of the class I wanted to be part of that mind-buzzing, heart-thumping world of literature. I went on to become an English major, keeping my studio art focus as well. I also took several creative writing classes.
I have my mother to thank for finding Vermont College, where I received an M.F.A. in Writing for Children after graduating from college. Those two years were a veritable greenhouse for me and my writing, and although the road to publication has been long, my VC friends have always been there to encourage and to challenge me.
After grad school I moved to Boston, where I wrote on my lunch break and at night while working full time to pay the bills. Then and during school I held a variety of jobs: substitute teacher, mortgage processing assistant, cell phone programmer, after school director, volunteer coordinator, fundraising researcher, freelance proofreader. In Boston I met and married my husband, and after moving south again was able to begin writing full time. Since becoming a mother, I squeeze in writing whenever and however I can. I was offered a contract on Isabel just a few weeks after my daughter was born.
I am truly thankful that my family has always been supportive of my dreams and my work.
When I'm not writing or taking care of my family, I love making stuff, dreaming about making stuff, buying stuff to make stuff, and reading about making stuff. I paint, sew, knit, cook, garden, dye, and make cards. I have even on occasion sculpted, batiked, rolled prints, and papier mached. You can check out some of my artwork on the "artwork" page. Read about my crafting, writing, and living in Germany on my blog.